Kloofing
The trail at Strijdom tunnel will take you to the absolute beauty of nature untouched, with a wild mix of adventure. Explore caves and walk along a stream that builds up to a Tufa Waterfall. Jump into waterholes while doing extreme hiking.
R 720.00 per person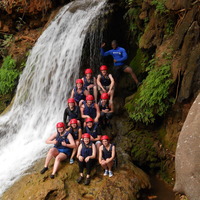 Quad Biking
Join us for a 1 hour Quad bike trail at Franklyn Park at the foothills of Mariepskop Mountain. The track will take you through riverine forest, savannah grasslands with spectacular views of Mariepskop. Small antelope, baboons and an abundance of birdlife makes part of this trip. Have to be 14 years and older to drive a quad. Under 16 years are welcome to join as an passenger.
Per quad (14 years and older): R 460.00 per quad.
Passengers (2-13 years): R 120.00 per person.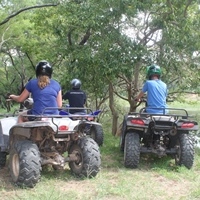 Paintball
Our Paintball field is out in the open in Bushveld surroundings where you can set the competition for an extreme paintball game. Each player gets an air gun and two teams are typically divided. Usually the teams play the childhood game of capture the flag. Each of the teams with goes into the field and tries to find the other team's flag. The object of the game is to capture the other teams flag and bring it back to your base and touch it to your flag in a given time period without getting eliminated. Getting eliminated is defined by being hit with a paintball and having it break (splat) on you. Referees will throw you out once you are eliminated. The paintballs are marble sized spherical containers that hold paint and have a hard shell to enable the gun to launch it long distances. It is an egg with a hard shell and goey interior. The guns are typically guns with a barrel to launch the paintball, a trigger to activate the launch procedure, a resevoir to hold extra paintballs, and some type of pressurized gas to provide propulsion.
R200 per person, 100 balls included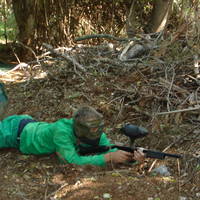 Franklyn Park
Franklyn Park is a recreational and adventure park, located in the Limpopo Province and Mpumulanga, situated on the Kruger to Canyons birding route, 30km from Hoedspruit and 20km from the Blyde Canyon. The Park is set on rolling lawns, surrounded by indigenous forest and bordered by perennial streams with a colonial out of African theme. Stone benches are strategically situated next to magnificent fountains and statues, to be enjoyed whilst relaxing and listening to the sounds of nature unspoiled. For our hikers take the Yellow, Blue or red trail at the foothills of Mariepskop mountain. The trails have an average distance of 7 km on the foothills of Mariepskop Mountain. After a lovely walk through the rain forest, order a picnic basket to eat alongside the stream. (Booking of Picnic basket prior to arrival essential). With more than 46 bird species on the farm, it's a paradise for bird watchers. Some of the bird species on the farm European Honey buzzard, Yellow Fronted Tinkerbird, White faced Whisteling Duck and much more. List available on request.
4 – 12 years: R40 per person
Above 12 years: R60 per person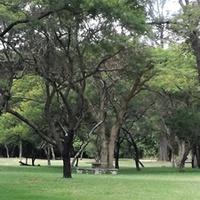 Tubing Lower Blyde River
R 400.00 per person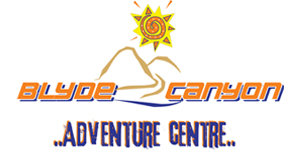 Please Note:
All trips are weather permitting.
Beverages are supplied on some trips.
Boat trips are open 7 days a week.
Paintball and Kloofing are closed on Sundays and Mondays.
We operate on Public Holidays – Closed on Christmas day.
Rates are valid from 01 November – 31 October.
No alcohol allowed on the activities.
Clients to be at the activities 15 minutes before departure time.