Panorama Tours
Take a scenic drive to experience the beauty of the Panorama Route in the Blyde river Canyon, which is 60 km long and is the third largest canyon in the world. There is a few viewpoints (God's Window, The Pinnacle, The Three Rondawels) along the edge of the escarpment offering excellent views of the Blyde dam, Blyde Canyon and the Blyde river 600m below. Visit the Berlin Falls, Lisbon falls and the Mac Mac falls. The Lisbon falls cascades over a sheer cliff to a pool 92m below. The Bourke's Luck Potholes are deep cylindrical holes formed by the action of sand and rock carried down the river when in flood. Stop over at God's Window with a 180 degree view of the Loweld  Also visit is the historical town of Pilgrims Rest which is a national monument. It was established in 1873 when the first gold strike in South Africa was made.
* Please contact us regarding prices.
Tel: 015 795 5961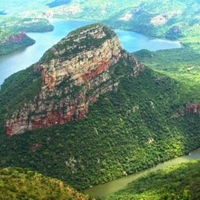 Game Drives – NEW!
More information coming soon.
Please Note:
All trips are weather permitting.
Beverages are supplied on some trips.
Boat trips are open 7 days a week.
Paintball and Kloofing are closed on Sundays and Mondays.
We operate on Public Holidays – Closed on Christmas day.
Rates are valid from 01 November – 31 October.
No alcohol allowed on the activities.
Clients to be at the activities 15 minutes before departure time.